EGPS Annual Conference
Friday, November 22 & Saturday, November 23, 2019
The Riverside Church, New York City
CALL FOR PROPOSALS
"Sympathy for the Devil?
Resisting and Confronting the Pull of Vilification in Group"
The 2019 Conference theme invites you to consider the role of vilification and polarization in group interactions. "What puzzles you," goes the song, "is the nature of my [Lucifer's] game" thereby calling attention to our difficulty comprehending, or accepting, the motives of those who wish to hurt us, and to our tendency to split the world into good and evil, saints and sinners, us and them. This predisposition begins in infancy, but persists into adulthood, especially when we encounter tense, conflictual situations involving our cherished ideas and values.
Groups offer ample opportunities to explore these tendencies: between members, sub-groups, member(s) and the leader, and between group members and external forces. These explorations are central to personal growth, and to the maturation of each group. We invite you to submit workshop proposals that address aspects of this theme. As always, we are interested in both psychological and societal
We welcome submissions by mental health and group practitioners from all backgrounds and group approaches. As we review the submitted proposals, we will give preference to those that reflect the theme of the Conference.
Lynn Pearl, PhD Wayne Ayers, PhD
Marie Rothschild, LCSW, CGP Tzachi Slonim, PhD, ABPP, CGP
Program Subcommittee Co-Chairs Annual Conference Co-Chairs
Kathleen Isaac, PhD
Annual Conference Co-Chair Designate
CLICK THIS LINK FOR THE SPECIFICS
---
General Information about EGPS Conference:
The Annual Conference of the Eastern Group Psychotherapy Society is an opportunity for mental health and allied professionals in private practice, community and organizational settings to participate in a stimulating array of presentations and trainings devoted to the art of group psychotherapy.
This two-day event, held each November, provides a forum to enhance clinical skills, deepen professional knowledge and interact with colleagues and friends. Utilizing multiple formats including a core Plenary, Large Goup experience for all participants, as well as extensive options for small group workshops, the Annual Conference offers attendees from many backgrounds and levels of experience a chance to sample a wide variety of current group methods and approaches.

Anchored to broad themes such as Desire, Sexuality, Conflict, Aggression, Gender, Race or Group Leadership, the Conference Plenary and workshops present diverse approaches to group psychotherapy including Modern psychoanalytic, Relational, Systems-Centered, Dialectical Behavior Therapy (DBT), Emotionally Focused Therapy (EFT), Psychodynamic, Couple's Therapy, Creative Arts Therapies, including dance, music, art and psychodrama.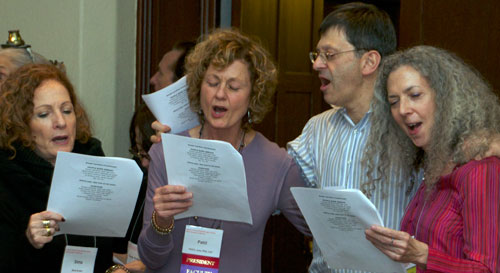 The Annual EGPS Conference is a unique learning experience, not only for the richness of its offerings, but also for the warm and inviting climate created by those who attend. This affirmative spirit enables both first-time and veteran participants to learn openly together, despite differences in age, gender discipline and experience.