2018 Annual Conference
Friday, November 16
&
Saturday, November 17
The Tragedy of Obedience and the Struggle for Authenticity in Group Psychotherapy
CALL FOR PROPOSALS
Due in the EGPS office no later than APRIL 20th
Group psychotherapy, to paraphrase Oscar Wilde, helps us become as "mad" as we need to be to become fully alive. But the process of becoming fully alive, of developing and expressing our unique individuality, may be inhibited by a host of conscious and unconscious allegiances: to our parents, our God(s), and our cultural and political ideals, to name a few. And while groups can be a wonderful breeding ground for multiplicity and authenticity, they can also compel members to silence and demand compliance.
We invite you to submit workshop proposals that examine the ways in which we foster our members' unique subjectivities; that deal with the tension between cooperation and compliance; that examine our freedom to develop unique leadership styles unbound to strict theoretical ideologies or beloved mentors; and ones that explore the role of cultural and political ideologies in determining how we run our groups and how we relate to each other.
We welcome submissions by mental health and group practitioners from all backgrounds and group approaches. As we review the submitted proposals, we will give preference to those that reflect the theme of the Conference.
Eva Fyer, LCSW
Tzachi Slonim, PhD, CGP
2018 EGPS Annual Conference Co-Chairs
Click here for details on submitting a proposal-
For questions about the EGPS Conference contact the EGPS office at info@egps.org or 631 385-0763
___________________________________________________________________________________________________
You can review the program from our 2017 Conference
General Information about EGPS Conference:
The Annual Conference of the Eastern Group Psychotherapy Society is an opportunity for mental health and allied professionals in private practice, community and organizational settings to participate in a stimulating array of presentations and trainings devoted to the art of group psychotherapy.
This two-day event, held each November, provides a forum to enhance clinical skills, deepen professional knowledge and interact with colleagues and friends. Utilizing multiple formats including a core Plenary, Large Goup experience for all participants, as well as extensive options for small group workshops, the Annual Conference offers attendees from many backgrounds and levels of experience a chance to sample a wide variety of current group methods and approaches.

Anchored to broad themes such as Desire, Sexuality, Conflict, Aggression, Gender, Race or Group Leadership, the Conference Plenary and workshops present diverse approaches to group psychotherapy including Modern psychoanalytic, Relational, Systems-Centered, Dialectical Behavior Therapy (DBT), Emotionally Focused Therapy (EFT), Psychodynamic, Couple's Therapy, Creative Arts Therapies, including dance, music, art and psychodrama.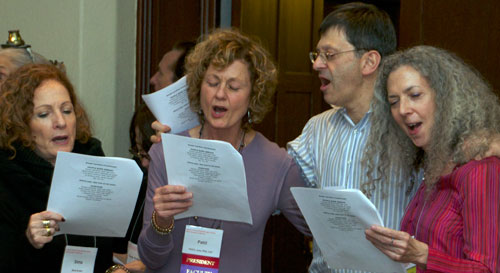 The Annual EGPS Conference is a unique learning experience, not only for the richness of its offerings, but also for the warm and inviting climate created by those who attend. This affirmative spirit enables both first-time and veteran participants to learn openly together, despite differences in age, gender discipline and experience.