2017 Annual Conference
Friday, November 17
&
Saturday, November 18
Undying Promise, Undying Peril: Welcoming Vulnerability in Group
Openness to emotional engagement---the willingness to unveil ourselves in the presence of others and the readiness to absorb the responses we evoke---very often deepens self-knowledge and fosters meaningful relationships.
In a vibrant group, however, there is a risk that such exposure will stimulate complex and troubling reactions in others and us. These reactions are complex because they may be tied to painful memories or distorted perceptions and troubling because they may be negative, repetitive and intense. As a result, group members (and group leaders) may shrink from the valuable learning that might otherwise occur when heightened currents of feeling elicit unsettling disclosures and problematic feedback.
This year's Annual Conference asks you to consider the role of vulnerability in your groups. How do you, as group leaders and group educators, work with this potent dynamic? How do you create and sustain an interactive setting where it is safe enough to risk and risky enough to nurture the expressive and receptive capacity necessary for a transformational group experience?
Michael Altshuler, LCSW, CGP
Eva Fyer, LCSW
2017 EGPS Annual Conference Co-Chairs
Registration for the 2017 Annual Conference is now open. You must submit a completed registration from by email, fax or snail mail. There is no online registration for this Conference.
For questions about the EGPS Conference contact the
EGPS office at info@egps.org
or 631 385-0763.
General Information about EGPS Conferences:
The Annual Conference of the Eastern Group Psychotherapy Society is an opportunity for mental health and allied professionals in private practice, community and organizational settings to participate in a stimulating array of presentations and trainings devoted to the art of group psychotherapy.
This two-day event, held each November, provides a forum to enhance clinical skills, deepen professional knowledge and interact with colleagues and friends. Utilizing multiple formats including a core Plenary session, Large group sessions for all participants, as well as an extensive slelection of small group workshops, the annual Conference offers attendees from many backgrounds and levels of experience a chance to sample a wide variety of current group methods and approaches.

Anchored to broad themes such as Desire, Sexuality, Conflict, Aggression, Gender, Race or Group Leadership, the Conference Plenary and workshops present diverse approaches to group psychotherapy including Modern psychoanalytic, Relational, Systems-Centered, Dialectical Behavior Therapy (DBT), Emotionally Focused Therapy (EFT), Couple's Therapy, creative arts therapies, including dance, music art and psychodrama.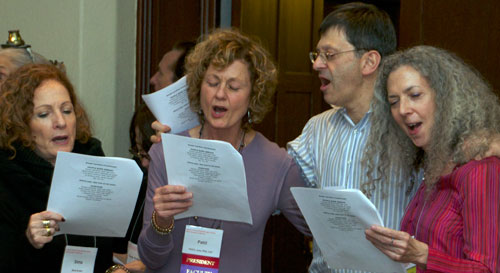 The annual EGPS Conference is a unique learning experience, not only for the richness of its offerings, but also for the warm and inviting climate created by those who attend. This affirmative spirit enables both first-time and veteran participants to learn openly together, despite differences in age, gender discipline and experience.